Christmas Greetings from the Russell Rundell Family!
Instead of Christmas cards this year, we decided we would do a Christmas/Adoption update letter. Many of you have followed our adoption story. You have prayed, given, supported, and encouraged. Today we are happy to announce to you that our prayers have been answered, far and above our dreams and expectations! You see, I am holding our precious newborn son in my lap as I type this letter!
Merton Russell Rundell V was born in Indianapolis on December 1st, at 9:21 pm.  He weighed 7 lbs even, and was 20 inches long.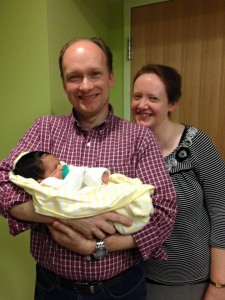 Merton Russell Rundell V was born in Indianapolis on December 1st, at 9:21 pm. He weighed 7 pounds even, was 20 inches long, and is perfect! Since there are now three Merton Russells living within a block of each other, we decided to call him Reece. Reece is a happy baby and has quickly wrapped both mommy and daddy around his tiny fingers! Besides Mommy and Daddy, he was welcomed into the family by two sets of loving grandparents, and several adoring aunts, uncles, and cousins.
During this past year, we had several adoption opportunities that fizzled for one reason or another. Our hearts were broken, and we wondered if God had forgotten about us. But here's the part where God did more than we could ask or think. Little Reece is 100% Honduran! Many of you know that Russell lived in Honduras for nearly 20 years with his missionary parents. So besides being fluent in Spanish, he is well acquainted with the culture. We had often dreamed of having a Hispanic baby, but God made our gift even more special by giving us a Honduran baby! It is our desire to raise our son with an appreciation for his Honduran roots. We can do this by taking him to Spanish church from time to time, Spanish campmeeting in the summers, and teaching him the language as able. Maybe someday we can even take him to visit Honduras!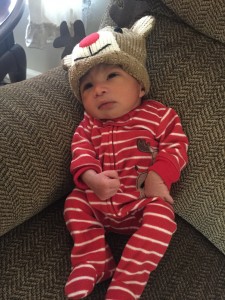 Only our Heavenly Father could have orchestrated all the events that brought Baby Reece into our lives. God's guiding hand is very evident in the entire situation.  While we can't share all the details because it will be Reece's story to tell someday if he wants to do so, we would appreciate your continued prayers that God will give us the wisdom to raise Reece to love and serve Him.
Besides our big news, we have had several other neat happenings this year. I became a full-time student at Indiana Wesleyan, working online toward my second Bachelor's degree, a BS in Business Information Systems. Besides my studies, I stay very busy with two jobs and teaching a night class. I am also actively involved in our church, serving as secretary of the board. I don't have much free time, but have recently resurrected my 1988 Apple IIc Plus computer and am enjoying this immensely.
Cindy became a certified Coder, with a specialty in home health care. This certification has enabled her to be a stay at home wife and mom, which she loves, and still be able to contribute to our income. She still works as needed as an evening/night shift supervisor at a small hospital about 20 miles from home. She is also active in our church, playing piano, organ and saxophone.
In June of this year, we celebrated our 5th wedding anniversary with a trip to Niagara Falls, Canada, as well as a day trip to Toronto. We had a wonderful time together and loved spending time in Canada. We made memories that we will always hold dear.
We are so thankful for each one of you, and for the role that you play in our lives.
We trust that you have had a blessed year and that you will celebrate Christmas with those you love. Most of all, may we each celebrate the Christ of Christmas. Without Him, we would have no hope. But with Him, we have life and joy, and peace! May His smile rest upon you during this season and throughout the coming year!
Merry Christmas!
Russell, Cindy, and Reece Rundell