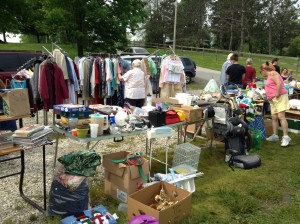 Our second yard sale went great!  We had excellent foot traffic, which converted into lots of sales!  You've already read about our local sale, but the Bedford sale did just as well. My sister Sarah planned the date to coincide with the nationwide US Highway 50 yard sale. They also had water and sodas available for the shoppers to buy.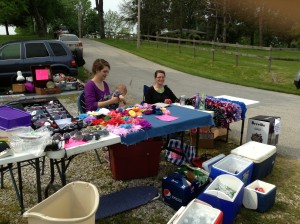 Lots of friends and family pitched in to help with setting up, managing the sale, and even by giving some donations! Thank you from the bottom of our hearts to all those involved in the Bedford sale! The generosity and willingness of our friends continues to amaze us!
We made a little over $800 on the second sale, which combined with the $959 from the first sale puts us almost $1,800 ahead toward bringing our child home.  Amazing!
In other news, we have started to buy some baby things.  Our baby's room looks cuter than ever with the Snoopy crib bedding and accessories.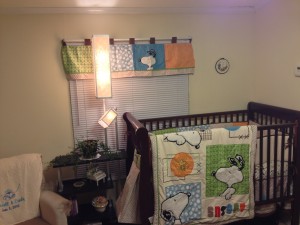 A friend at Cindy's workplace donated several bottles and pacifiers.  We have picked up some items at the store as we have funds, and are starting to build a nice collection!
So how are the finances? The domestic adoption program fees come to a total of $25,000, not counting lawyer fees.  We have already paid $3,550 of this. Currently we have about $9,500 from donations and personal savings, making a total of $13,050 that we have either already paid or have saved. As you can see, we have come a long way; but there is a long way to go yet!
Once our home study is complete we can start applying for grants to help with some of the rest of the adoption program fees.  There are several foundations started by people who love adoption and want to help families grow through adoption.  Most, if not all, of these foundations will not fully fund the adoption since they want the prospective family to involve their community in the fund-raising process.  To borrow the phrase, it really does "take a village" to adopt a child!
We are so very thankful for the help all our friends have given.  There is no way we could afford adoption on our own without going deeply into debt.  We treasure the sacrificial giving of our friends and family.  We can never repay you for your thoughtfulness!