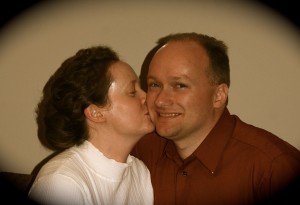 We first crossed paths many years ago in Anderson, IN.  Who knew then that all this time later our lives would be permanently intertwined in such a fashion?
The first time sparks flew was at the Faith Mission Church in Bedford, when the Union Bible College choir visited.  Communication ensued, and the end result is the ultimate happiness of us both.  God has indeed blessed both our lives!
Russell works full-time for Union Bible College as the System Administrator — which means he gets to goof around with computers all day for a living.  He also works part-time at Kroger in the Deli.  Chances are good if you bought fried chicken at the Kroger on 146th Street and Hazel Dell Road that he had a (gloved) hand in frying it.
Cindy works full-time at Witham Health Services in Lebanon, IN as a House Supervisor.  In her free time she fills the chief cook and bottle washer position at the Rundell estate.
We are both actively involved in our church, Noblesville Pilgrim Holiness Church. We enjoy singing together and using our talents to glorify God.  Above all, we both want to serve Jesus with all of our hearts and to the best of our ability.