Since it's been a bit since we posted an update, I decided that we must remedy that situation. It can be challenging to know what to report, as sometimes things move slowly. If you've ever been in the process to adopt, you know first-hand what this is all about.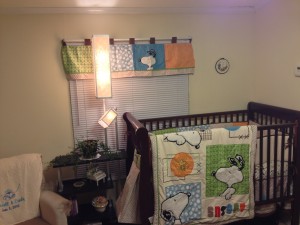 We are waiting. Sometimes patiently, sometimes not so much. It is waking up each day and checking my phone to make sure I didn't miss a phone call from the adoption agency. It is having a sense of anticipation and wondering what day it will happen. It is learning from false alarms and moving on from there. It is making sure that we are ready to bring home a baby, but not knowing when the baby may be here. I'm sure it is a bit like the final stages of pregnancy, except that we have no idea on timeframe. We don't know whether our baby will be a boy or a girl, and we don't really care. We don't know if our baby will be born with addictions. It is very likely. When you are experiencing a "paper pregnancy," there is nothing that you can do to protect your little one from nicotine, drugs, or alcohol. All that we can do is continue to pray that the birth mother carrying our baby will make good choices and that God will protect him/her.
So what do we do while we wait? We continue business as usual to the greatest extent possible. We both continue to work full-time, and pick up overtime as we can. We continue to educate ourselves on adoption. In fact, I am currently doing an on-line course about kids from tough starts. It's free this month and next in honor of November being an emphasis on adoption. Yay for AWESOME, free classes! Tomorrow morning, we will go to our adoption agency for a free class on how to have the "adoption talk" with your child. Good stuff.
We also continue to save towards our expenses. We are happy(and not surprised) to report that God has been faithfully helping us in our savings. We currently need a mere $3,700 more! That does not include attorney fees when the adoption is finalized, but it will be all we need to complete the $15,000 payment we will owe upon receiving our baby! We asked God to help us adopt debt-free, and He is doing it! Even if we get called tomorrow, $3,700 is manageable debt that we could get paid off on a limited income. That being said, if WE can adopt, anyone can adopt with God's help! What looked unattainable to us a few short months ago is becoming reality. God is "faithful to all His promises and loving toward all He has made!" Hallelujah!
As I think about waiting and preparing for our baby, it has brought to mind that we should be doing the same spiritually. Am I looking for Christ's return every day, with that same sense of breathless anticipation? Have I made all the necessary preparations if He should come today? Am I willing to make any sacrifice in order to make Heaven my home? With God's help, I'm ready, come what may. Are you?