Thoughts on my first Mother's Day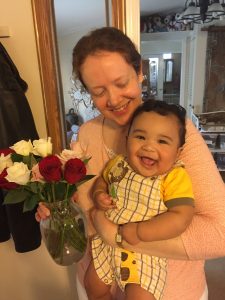 I am a mom. No, really, I am! It's still hard for me to believe it sometimes, but days like today remind me that it's true. Mondays are difficult for Reece, because his schedule gets off on Sundays. Today he napped very little, and didn't want to be put down for several hours. I am a mom. Even though I was tired when I rocked him to sleep for the third time, tears welled in my eyes, and I thanked God for the tiny piece of humanity lying in my arms.
Still, when Mother's Day rolled around, my first one as a mom, I had mixed emotions. I even felt self-conscious, a little like an impostor. I was so grateful that our pastor led a very sensitive service, and didn't ask the mothers to stand. He asked us ALL to stand and had husbands, wives, and children pray together. He also prayed for those who had lost children, or those who longed to be mothers. It was truly the most compassionate Mother's Day service I've ever been privileged to attend.  It was so sweet! So often those with aching hearts are made to feel badly on this day, as if they don't have as much value as mothers. I know. I've been there. Don't get me wrong, mothers are wonderful! I love mine, and I love being a mother! But I wish somehow that there was an emphasis on helping ALL women to feel valuable on this day, mother or not.
I've struggled for years with a low self esteem, and holidays like Mother's Day just added to that. I watched as only the mothers were lauded and applauded, and sat quietly in my pew wishing I was anywhere but there. Slowly, I have come to the realization that ALL people have value in God's eyes, even if their dreams have not come true. And then there are baby dedications where statements are made like "God must trust you a lot to entrust little so-and-so to you." Which immediately would put thoughts in my head like "I guess God doesn't trust me, He hasn't given me the baby I've prayed for so long." Unfortunately, Satan knows our weak spots, and he loves to capitalize on them! I have learned that God doesn't work that way. He is not punishing me for things in my past, He is not withholding from me because He doesn't trust or love me. He just has a different plan for me, one that is better for me. That doesn't mean that it's better than the one He has for you, but it is best for me.
All this leads me to say that I am thanking God for the gift of infertility. Without it, we would probably not be parents to our precious little Reece. Even though I longed for a biological child, I wouldn't trade this child for all the biological children in the world! He is just perfect for our family, and God's hand print was all over his situation. It was obvious to us, even before he was born, that God was in it. That is such a wonderful feeling, to be able to just relax and let God handle it. As I'm learning to more fully trust God, I am learning to value myself more. Not in a prideful way, but in a healthy way. I have never thought myself to be a beautiful woman. I'm not looking for affirmation of beauty here, just trying to be honest. But the other day as I was holding Reece, I looked into the mirror. I wasn't dressed up at all, and my hair was hanging loose in a long braid. Reece and I were both smiling with our faces plastered together. And in that moment, I saw beauty looking back at me! I realized that I was seeing joy, and that made all the difference in the world! While I'm not ready to sign up for the Miss America pageant, I have decided that I can be beautiful if I continue to let Jesus fill me up with joy.
Even with my mixed emotions, I did enjoy Mother's Day. Russell and Reece made it so special with beautiful roses, cards and gifts. I am so thankful for the love and honor of my husband, who thinks I'm beautiful every day and is quick to tell me so. I am truly blessed!