We had an absolutely wonderful time at our fundraising dinner on July 20th. We had around 40 in attendance, and we really appreciated those who made a special effort to come out and support us. I will also add that the dinner was a tremendous amount of work, but worth the effort.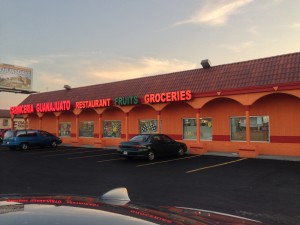 On Wednesday prior to the dinner, Russell and I went shopping, even venturing to a great Mexican store in Indianapolis. We purchased our steak there, and the guys at the meat counter even prepared it for us. They filleted it, trimmed off the fat, and tenderized it. All we had left to do to it was marinate it and grill it. We also purchased the bulk of our vegetables there for homemade pico de gallo, veggies to add to the rice and beans (for flavoring,) and for a tossed salad. Their prices were out of this world awesome, but one does need to speak and understand some Spanish to shop there. We also hit Aldi's and Kroger's in the same night. Russell and his dad went to Sam's Club the next day to purchase the chicken at a better price. I will say that it definitely helped us to shop around, and we will be venturing to the large Mexican store again at a later date.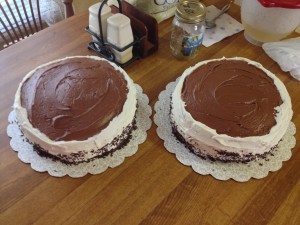 On Thursday, I started baking desserts to sell. Anybody remember the old Roselyn's bakery in the Indianapolis area? Well, I have their recipe for Canasta Cake. To say it's to die for is pretty accurate in my family. It's this luscious double layer chocolate cake, with rich chocolate frosting between layers and on top. Around the sides is a white frosting that has marshmallow fluff as one of the ingredients, then you put chocolate sprinkles around the sides. Everyone in my family loves it. However, I don't make them often because they are a good deal of work. If you don't do anything else, making one cake takes two hours working nonstop. Again, it's so worth it! And I made two to sell at our dinner. I also made a cherry pie and a blackberry pie.
On Friday, I made three cheesy potato casseroles (to bake the next day,) two recipes of lemon lush, and one tres leches cake ( a Honduran recipe.) I also cleaned the dining room where we were holding the dinner. Russell worked on a power point and did lots of errands for me. Also, my mother-in-law and I started marinating the meat. Mom and Dad Rundell, Lorna, and Russell and I set up the place settings at each table as well.
Saturday at noon, my mother-in-law and I met in the kitchen, wearing our aprons. We were ready for some serious cooking now! We made a yummy tossed salad, and then chopped up tons of veggies for our homemade pico de gallo. We also used excess veggies to flavor and color the Spanish rice, and the refried beans. By the way, my mother-in-law makes the BEST refried beans I've ever had. You should really try them. Russell and his brother Daniel started grilling around 4pm, and they did a wonderful job. That was some of the best meat I've ever sunk my teeth into! Meanwhile, we set up the gift baskets that Lorna had made to sell, and continued cooking. My brother-in-law, Zack, made an emergency run to the local Mexican store to buy some fresh tortillas for us to warm and serve. Russell's sister Sarah was also helping in the kitchen for a while, and my mom got there in time to help me dish up the rice. What a day!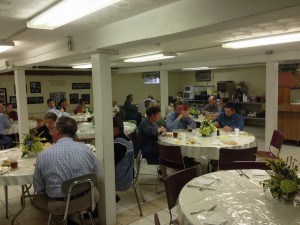 We were finally ready to eat, and Russell welcomed everyone and asked our pastor, Rev. John Forsee, to bless the food. We all enjoyed eating that yummy food! And just as a side note, we enjoyed the leftovers the next day with several other families, and ate on the leftovers for several days! We held a silent auction during the dinner, auctioning off the desserts I had made, two cakes that my mom had baked to sell, and the gift baskets. I'm happy to say that the evening was a wonderful success! Our families, and my cousin Steve pitched in to help with clean-up when all was said and done. Everyone who did anything to help is much appreciated!
Yes, I am going to tell you about our profits, but first I want to tell you a little story about faith. Russell and I are reading a book by Mark Batterson, the author of "The Circle Maker." It's called "Draw the Circle," and is a 40 day devotional. We are reading it together, and then one of us makes a brief journal entry. The book encourages you to write down what you ask God for as an encouragement to your faith. So I asked Russell, "What do you think we should ask God for?" Together, we came up with a small list of things that are important to us. One of our dreams is to be able to adopt debt free, so we asked God to help us do that. Under that request, as a smaller request, we decided to ask God for a specific amount at our fundraising dinner. Now I admit that my faith was kinda weak here, and Russell's was as well. At one point in our planning, he made the statement "We'll be lucky if we break even." To which I replied, " But we'll have a good time, and we'll get some good food!"
If you've never tried organizing a fundraiser, then you don't know how difficult it can be to get people interested in your cause. Neither one of us want people to feel that we are shoving anything down their throats. But we have asked that if people are interested in our cause and feel that they are able to help, to consider helping. We had done a little figuring after we got the RSVP's back, and it looked like we could expect between $400-$500. That wasn't a great figure, considering that we were spending between $200-$300 on food and supplies. Russell still needs to figure out exactly what we did spend on the dinner by checking our receipts. So I was really surprised when Russell told me that we should ask God to help us clear $1,000 on our dinner! We discussed it a little, but decided that we weren't losing anything by asking for that figure. After all, God can do anything that He wants to! So we asked Him, and we prayed about it every night. Due to the generous gifts of our family and friends, I am happy to report that GOD ANSWERED THIS PRAYER! Are you ready for this? We CLEARED somewhere between $1,400- $1,500! Over $1,700 came in that night! Thank God that He answers our prayers, even when our faith is weak! Makes you wonder how much God wants to do for us if we will just ask Him! This was a huge boost to our faith. We are currently debt free, and we want to stay that way with God's help.
We still need about $6,500 to make up the $15,000 we still owe. We are saving every month as much as we are able, and we are coming up with lots of ways that we can save even more on every day stuff. We were already living pretty frugally, but have become more so. We have cut out some things that were non-essential, which will enable us to save even more. We want to live within our means, and be good stewards of what God has entrusted to us. We are so excited to see how God is going to finish answering our prayers! We believe that we are in the very center of His will, and that's a really great place to be. He will never fail us. He knows every need we have, but He likes for us to ask Him for what we need. He is delighted to give good gifts to His children! Oh for faith to trust Him more.