We have an announcement….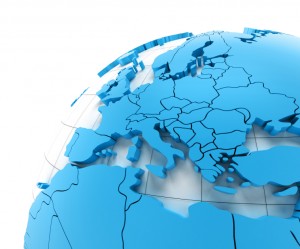 After careful prayer and consideration, we feel that God is leading us to adopt a child from Eastern Europe. To say that we are excited is putting it mildly! To say that we are getting bogged down in paperwork is also putting it mildly! And it's only just begun.  Our adoption journey started just at a year ago when we attended an information seminar at Bethany Christian Services in Indianapolis. Quite honestly, we left there somewhat discouraged. The seminar was wonderful and informative, and the people were so friendly. But we were still in debt, and didn't see any way that we could adopt any time in the near future. The cost of adoption is staggering to say the least. We are looking at somewhere around $30,000 to bring our child home! If that amount of money sounds positively minimal to you, then God bless your heart! Maybe you can help us!
Those of you who know us well, know that Russell is in full-time Christian ministry (read "we aren't rich!") He also works part-time at Kroger to supplement his ministry habit. I am currently working as a nurse four evenings per week. Thankfully, Russell's ministry job does provide us with housing, and helps some with meals as well. We don't take that lightly! That has partially enabled us to get out of debt! Yes, I'm happy to report that we are debt free, with the exception of one of our vehicles!
So we started feeling the promptings of God once again to adopt. The Scripture is full of references to care for the orphan. One such scripture is found in James 1:27: "Religion that God our Father accepts as pure and faultless is this: to look after orphans and widows in their distress and to keep oneself from being polluted by the world." Another reference is found in Psalm 68:5-6: " A father to the fatherless, a defender of widows, is God in His holy dwelling. God sets the lonely in families, He leads forth the prisoners with singing; but the rebellious live in a sun-scorched land." God sets the lonely in families! I like that. I can't think of too many that would be more lonely than the orphan living in an orphanage. Here in the USA, we care for children in the foster care system. Not ideal by any means, but so different than living in an orphanage. When I look at the list of waiting children, and read that some have been there since birth, it makes my heart ache. When I see their little faces, and read about them, I want to bring them all home! I know that's impossible, but I CAN bring one home!
From the time I was a little girl, I have had a heart for missions. I am told that when I was around three, I asked for a little African baby doll for Christmas. When my family asked why, I told them that I wanted to tell it about Jesus. Obviously, I had been hearing stories in Sunday School about children in Africa that didn't know Jesus. I don't even remember that incident, but I did get my baby doll for Christmas. She is in my parents attic, along with my other dolls, and I'm sure she heard about Jesus many times! At this time in my life, I am not called to live on a foreign field as a missionary, though I am willing to go. So what can I do? I can bring home one child, and I can teach him/her about Jesus! That's what God has called us to do right now, and I can't wait until we can bring our little one home!