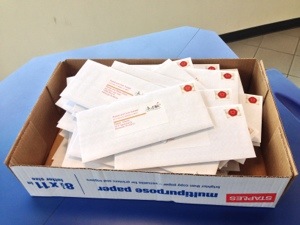 What a crazy week!!!! We are leaving for a medical missions trip to Honduras very early in the morning, so you can imagine the frantic packing, housework, laundry, etc. Not necessarily in that order! Ha! In addition, we have at long last gotten our adoption appeal letter printed, labels affixed to envelopes, letters stuffed into said envelopes, and they are now in the mail!!!! We have worked for several hours getting this project done, and we are excited about what God will do! We believe that He is going to answer our prayers in ways we cannot even dream of! If you are one of the people that receives our appeal letter, I want you to notice the design of the letter, and even the design of the labels on the envelope. My husband is so creative with design, and I think it looks really nice! If you don't receive a letter, we have attached a PDF file where you can view the letter.
In other news, we are tentatively scheduled for our first homestudy interview on March 5th! That is exciting, and a little scary. We have talked with our adoption specialist on the phone and she is really nice, so that takes a lot of the scary out of the equation. Please help us pray about this interview, and about our funds. We need to pay $3,000 to the agency prior to this interview, so help us pray about that too.
We would also appreciate your prayers for us while we are in Honduras. Our desire is that God will use us to be a blessing to others while we are there.
That's all for now! I'm leaving on a jet plane…..